Board of Health Upcoming Events
Event: FLU Clinic- Pepperell & Ayer Family Pharmacy
When: Thursday, September 28, 2023 from 3:00pm - 6:00pm
Where: TheThe Groton Center 163 West Main Street Groton, MA 01450
How to Sign Up: * By appointment only. Open to all ages. Senior dose available.
Public should call 978-448-1170 or email gcoa@grotonma.gov, to register for this program.
* Homebound residents can call Nashoba Associated Boards of Health 978-772-3335 for home vaccination.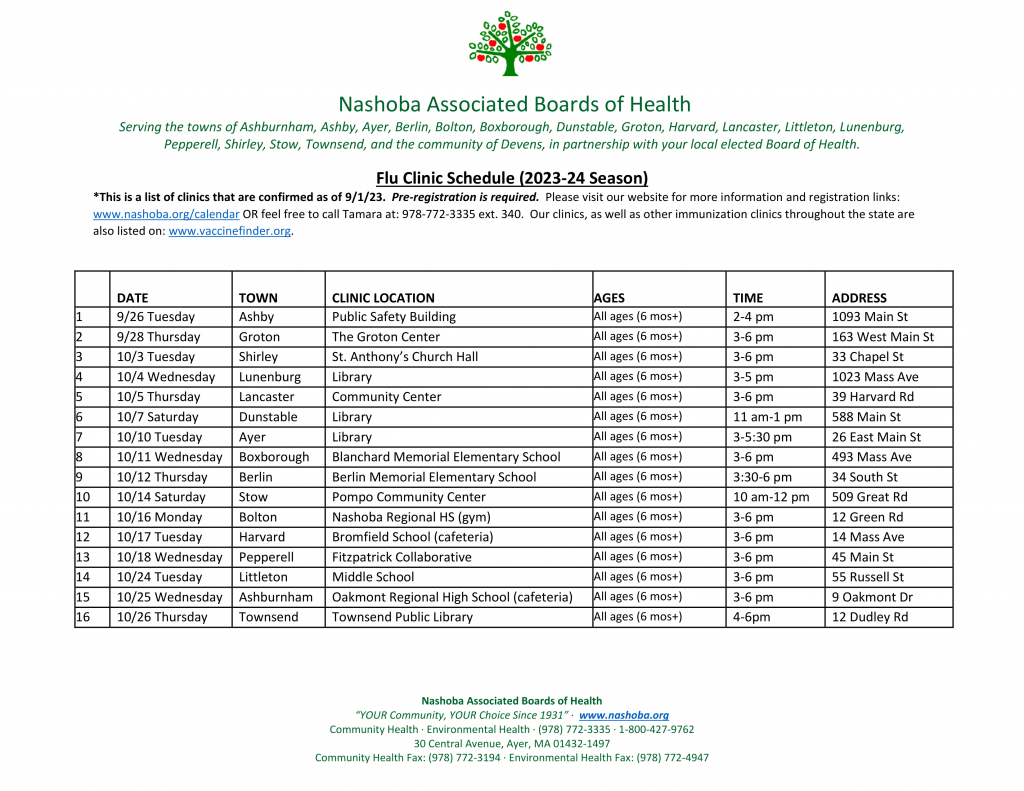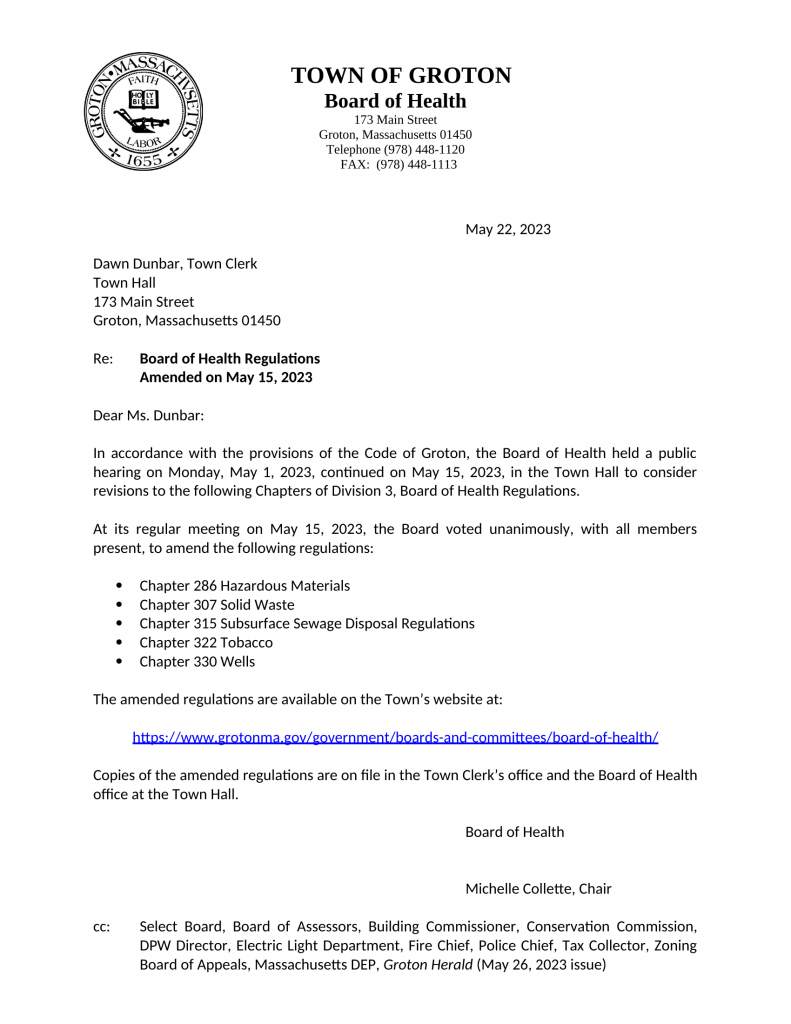 Well Adult Clinic
Well Adult Clinics are held monthly in each of the sixteen towns served, and are an opportunity for adult residents to have a basic health screening and talk with their town nurse!  
If you are concerned about a resident who is elderly, frail, or otherwise at-risk, you can refer them to one of the monthly Well Adult Clinics.
It's important to note that residents of Nashoba towns can attend any of the clinics - it does not have to be the one in your town!
Please see below for this month's clinic schedule (January 2023), or look at the image below.
The most up-to-date version of this schedule will be on the Nashoba website at https://www.nashoba.org/calendar.
Also attached is the Public Health Nursing one-pager to this email that details when you might contact your Town Nurse.
When in doubt, just call!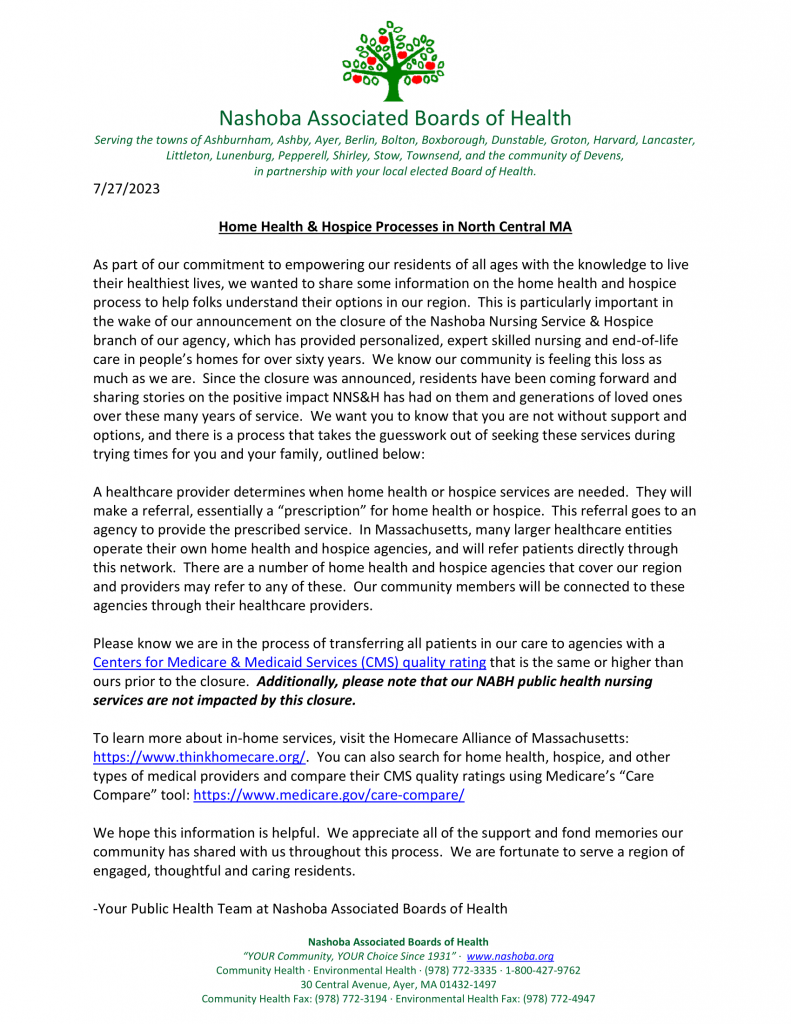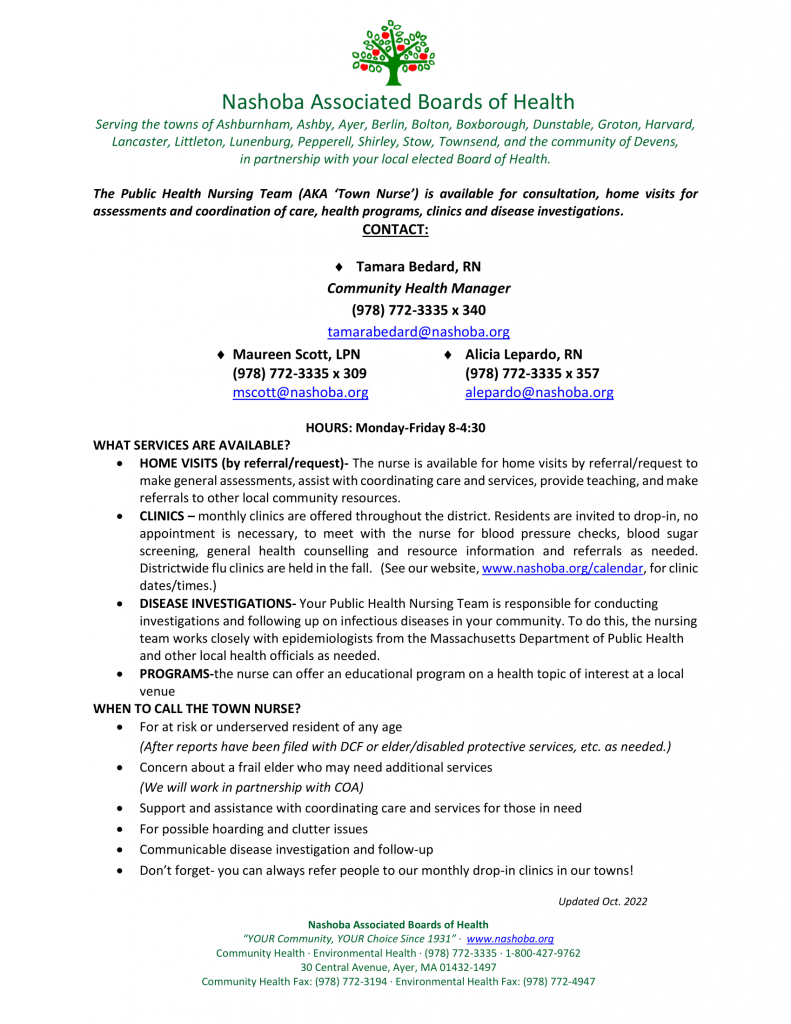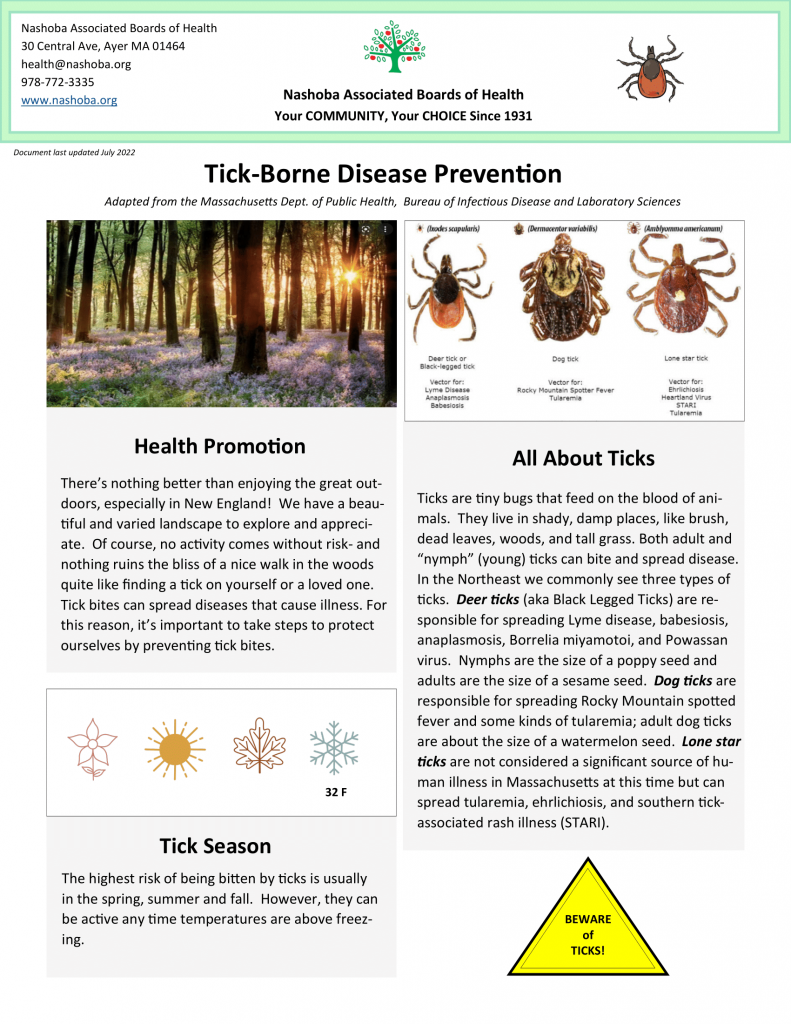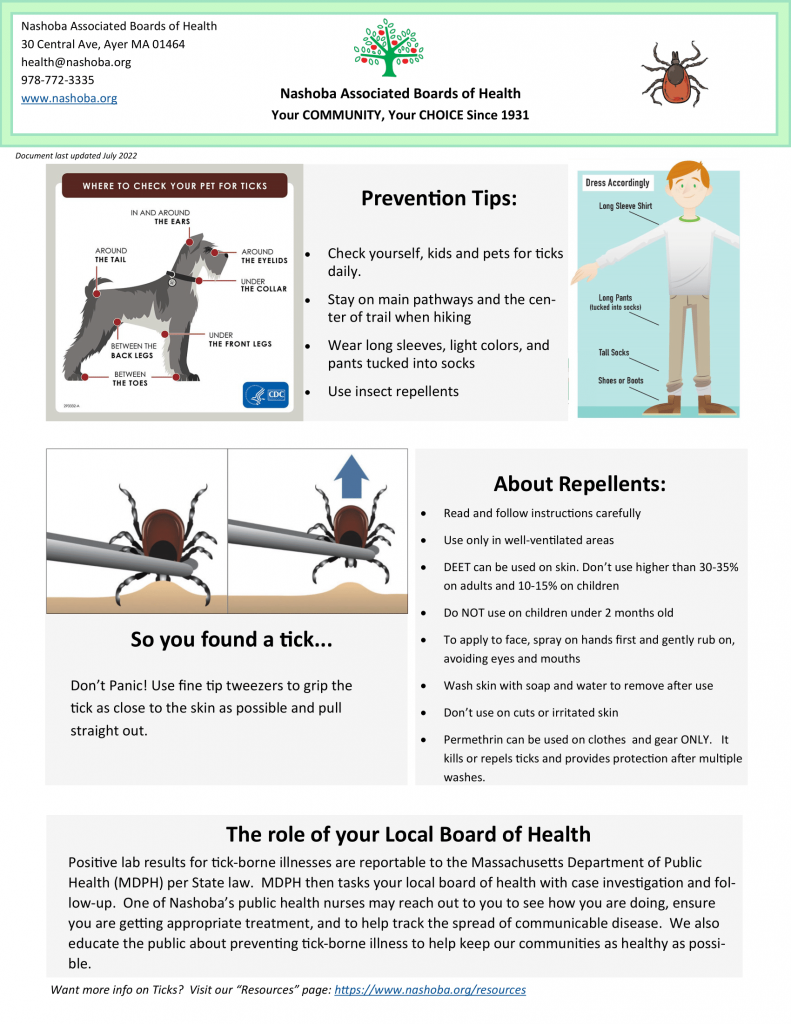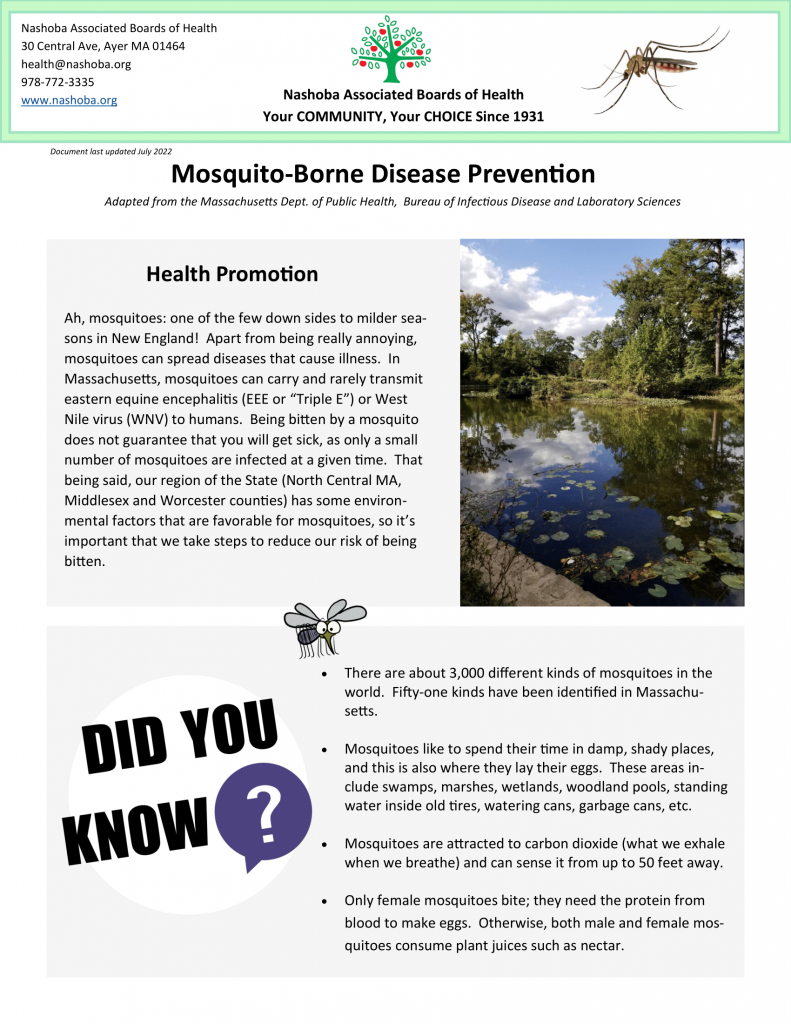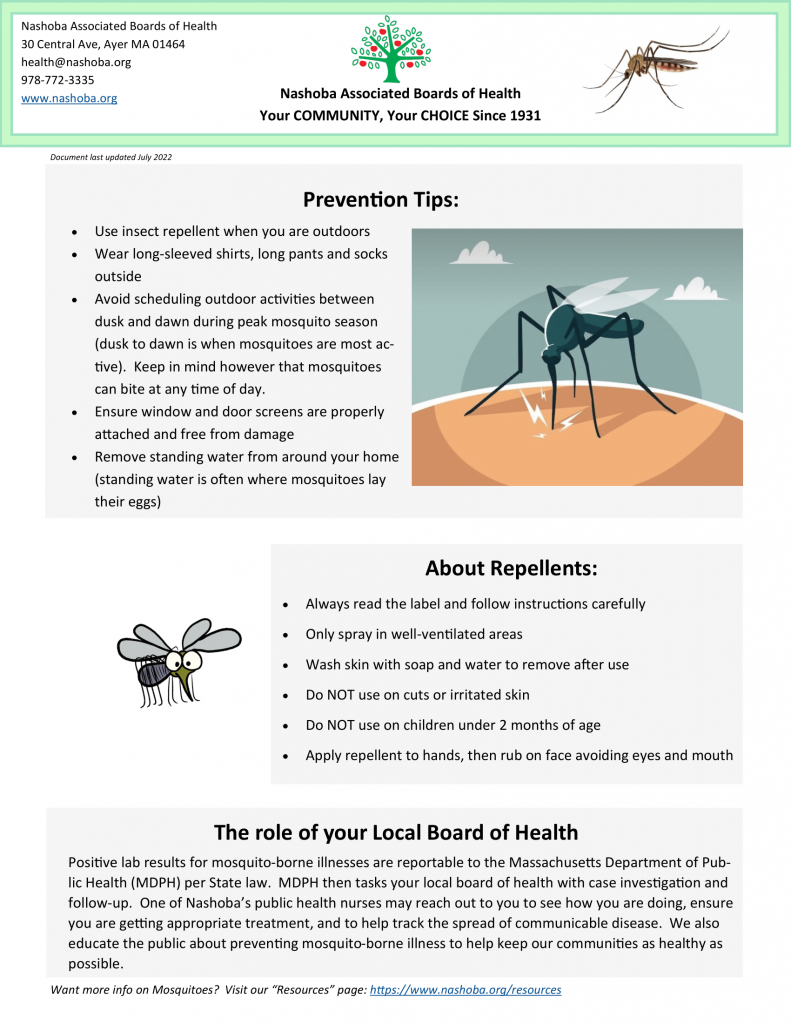 Finishing Basement
If you want to finish your basement, please print out the Basement Checklist and submit all the applicable information with your Building Permit.
Did you know you can subscribe to updates to this page? Create an Account or Manage your preferences at
https://portal.grotonma.gov
and get notified whenever a new meeting is scheduled or a new document is added!
About
The Board of Health performs on the local level many important duties relative to the protection of public health, the control of disease, the promotion of sanitary living conditions, and the protection of the environment from damage and pollution.

Mandated duties include:

health care and disease control
enforcement of housing and dwelling codes
monitoring of, and providing for, hazardous waste disposal
monitoring the sanitary landfill
enforcement of Title 5 (the State Environmental Code relative to septage and garbage)
investigating nuisances which in the board's opinion may be injurious to health
enforcing MGL Chapter 2 of the State Sanitary Code involving food service establishments
enforcing Title 5 of the State Environmental Code regarding safety and sanitation of pools and beaches
Under the subdivision control law, the Board of Health has important responsibilities with regard to subdivision plan review and, under Title 5, inspections of septic system installation and maintenance. The board also investigates citizen complaints. In addition to its elected Board of Health, the Town is also a member of the Nashoba Associated Boards of Health. One member of the Groton Board of Health serves on the Board of Directors of the Nashoba Associated Boards of Health Association. This organization, made up of surrounding towns and with offices in Ayer, acts as agent for the performance of many of the above duties under the supervision of the local Board. One arm of the Nashoba Associated Boards of Health, the Nashoba Nursing Service, provides communicable disease investigation and follow-up; tuberculosis monitoring; high risk, mother-infant follow-up; immunization and screen clinics; health promotion; and disease prevention.

The Groton Board of Health is served by a paid, full-time office administrator with an office in the Town Hall.
Contact Information
Email:
health@grotonma.gov
Phone:
(978) 448-1120
Fax:
(978) 448-1113
Office:
Town Hall, 173 Main St
Hours:
M 8:00am – 7:00pm; T-TH 8:00am – 4:00pm; F 8:00am – 1:00pm
Members: 3
Selection: Elected
Term In Years: 3
Remuneration: None

Members
Evan Thackaberry
Term Start: 2023-05-24
Term End: 2026-05-19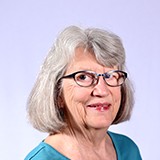 Michelle Collette
Chair
Term Start: 2021-05-27
Term End: 2024-05-21
Robert J. Fleischer
Term Start: 2022-05-25
Term End: 2025-05-25
Board of Health Resources
Water Quality Testing Info For The Town Of Groton
Please be advised that homeowners are required to have a full water quality test done within six months but no less than 30 days prior to transfer of ownership. Please refer to Section 330-8 within the
Town of Groton Well Regulations
in addition to this
Well Water Sampling Quality Testing handout
which is provided to agents and homeowners in advance of a home closing for more information. The water quality testing has to be done by a certified lab in MA. You may contact either Nashoba Analytical in Ayer, MA at (978) 391-4428, Skillings & Son (
https://www.skillingsandsons.com/water-testing/
) or New England Well & Pump Co., LLC (978) 732-4803
Board of Health Documents
Licensed Trash Haulers
Waste Management:
124 Hartwell Street W. Boylston, MA 01583 (800) 545-4560
Waste Not: 
52 Hartwell Street Fitchburg, MA 01420 (978) 649-0641
GW Shaw and Son, Inc.:
124 Old Wilton Road Greenville, NH 03048 (603) 878-4108
DPS Trash & Recycling:
286 Kemp Street Dunstable, MA 01827 (978) 302-8982
Republic Services: 
385 Dunstable Road Tyngsboro, MA 01879 (800) 442-9006