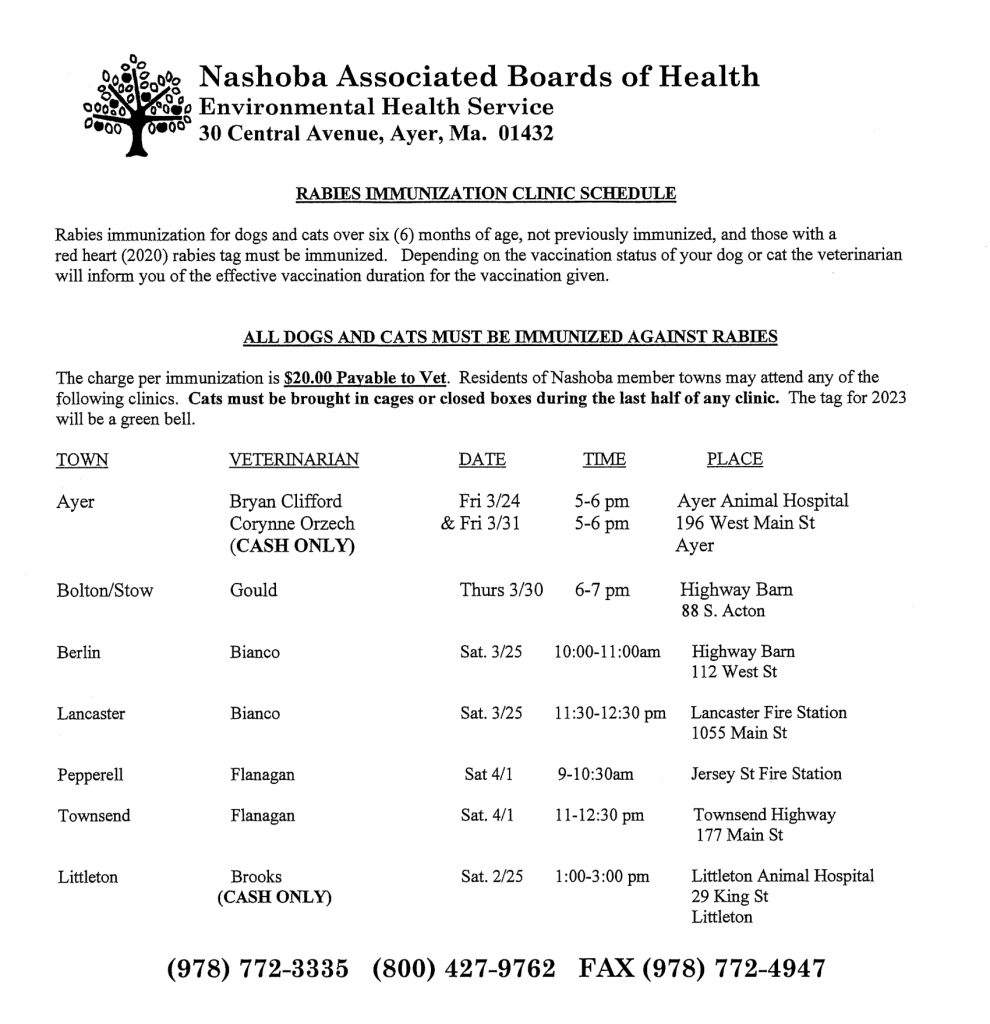 Baker-Polito Administration Announces Children Ages 6 Months to 4 years Eligible for COVID-19 Vaccinations
BOSTON — Following recommendations from the US Centers for Disease Control and Prevention (CDC), the Baker-Polito Administration today announced that Massachusetts children ages 6 months to 4 years old are now eligible to receive the Moderna or Pfizer COVID-19 vaccine.
For the 6 months to 4-year-old age group, the Pfizer vaccine consists of three pediatric doses and the Moderna vaccine consists of two pediatric doses. Appointments will be available for booking beginning Tuesday, June 21st with additional locations and appointments expected to come online in the following days. Vaccines are already available to those 5 years and older. The Administration expects there to be over 400 locations for children ages 6 months to 4 years old to receive a vaccine in the coming weeks.
The COVID-19 vaccine has shown to be safe, effective, and protective against serious illness or death. The Administration is committed to ensuring families have convenient access to free, safe, and effective vaccines. Children 6 months and older may receive a vaccination at locations such as their pediatricians' offices, community health centers, state-supported vaccination sites, mobile clinics and some pharmacy settings depending on the pharmacy and the child's age.
"We know parents and families have been waiting for this, and we are pleased to have this last age group approved for the COVID-19 vaccine," said Dr. Estevan Garcia, a pediatrician, and Chief Medical Officer at the Massachusetts Department of Public Health. "The vaccine for this age group has been rigorously tested and we encourage parents to add this vaccine to the list of critical vaccinations their children should receive. We urge parents to reach out to their child's health care provider with any questions they may have."
How to find a pediatric COVID-19 vaccination appointment:
Parents who prefer to have their child vaccinated by their primary care provider should call their provider's office directly. Visit the VaxFinder tool at vaxfinder.mass.gov for a full list of available locations. You can narrow results to search for locations offering the pediatric COVID-19 vaccine. Some locations listed may only vaccinate certain ages. Read the site details to learn more.
For individuals who are unable to use VaxFinder, or have difficulty accessing the Internet, the COVID-19 Vaccine Resource Line is available by calling 2-1-1 (Monday through Friday from 8:30 AM to 6 PM, Saturday and Sunday 9 AM – 2 PM). The COVID-19 Vaccine Resource Line is available in English and Spanish and has translators available in approximately 100 additional languages.
Massachusetts is a national leader in vaccination rates with over 84 percent of eligible residents fully vaccinated and over half of adults boosted. Massachusetts residents have ready access to vaccines, rapid tests, and therapeutics – all the resources needed to prevent severe illness and the Commonwealth's COVID data shows these tools work.
The vaccine is free, and you do not need insurance or an ID to be vaccinated. Additional information on the COVID-19 vaccination, including FAQs, can be found here: mass.gov/COVIDvaccine
For vaccine information on ages 6 months to 4 years, please visit: mass.gov/COVIDvaccineyoungkids For vaccine information on ages 5-11, please visit: mass.gov/COVIDvaccinekids For vaccine information on ages 12-17, please visit: mass.gov/COVIDvaccineyouth
Well Adult Clinic
Well Adult Clinics are held monthly in each of the sixteen towns served, and are an opportunity for adult residents to have a basic health screening and talk with their town nurse!  
If you are concerned about a resident who is elderly, frail, or otherwise at-risk, you can refer them to one of the monthly Well Adult Clinics.
It's important to note that residents of Nashoba towns can attend any of the clinics - it does not have to be the one in your town!
Please see below for this month's clinic schedule (January 2023), or look at the image below.
The most up-to-date version of this schedule will be on the Nashoba website at https://www.nashoba.org/calendar.
Also attached is the Public Health Nursing one-pager to this email that details when you might contact your Town Nurse.
When in doubt, just call!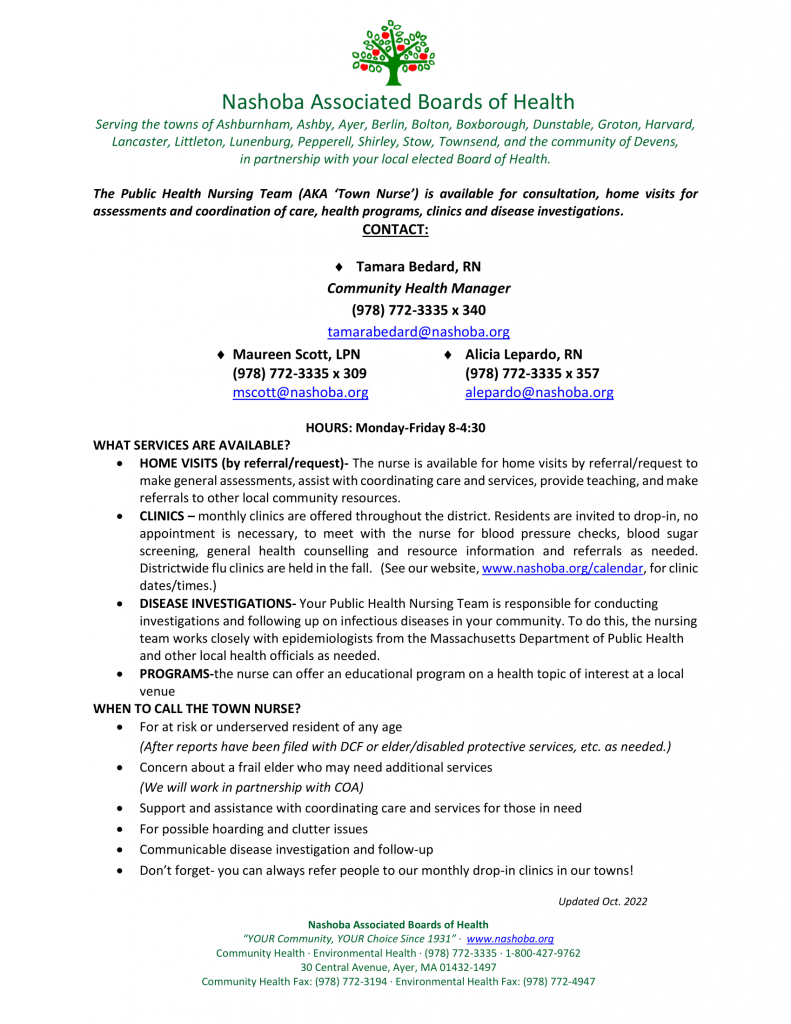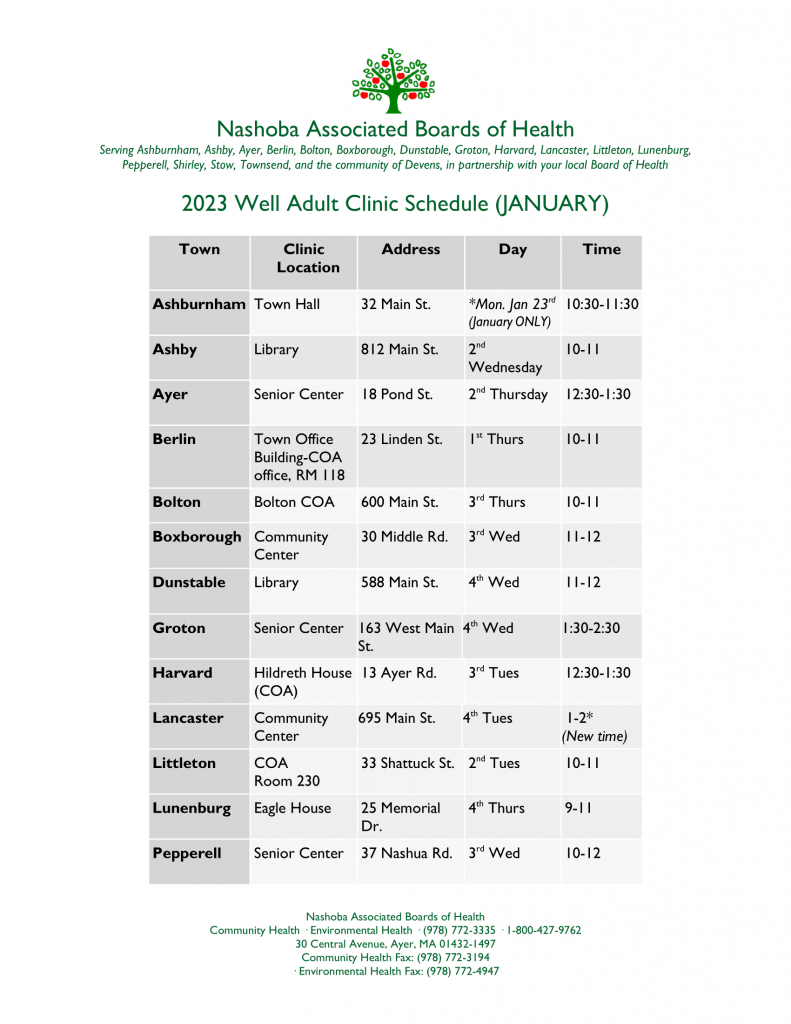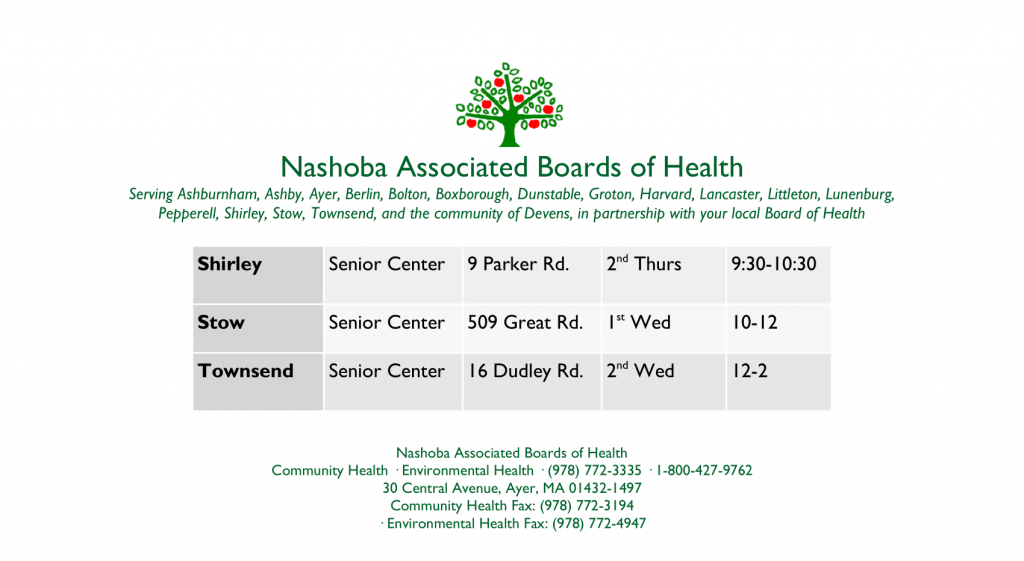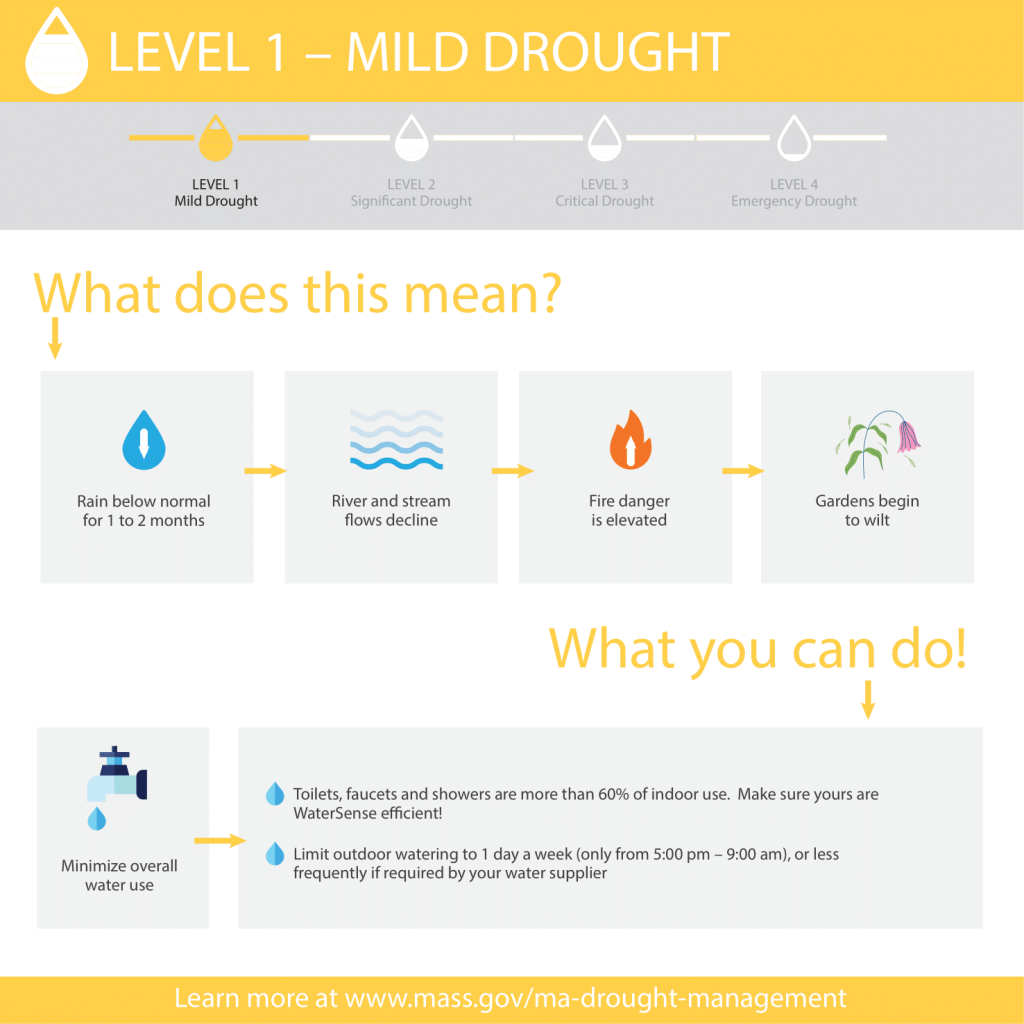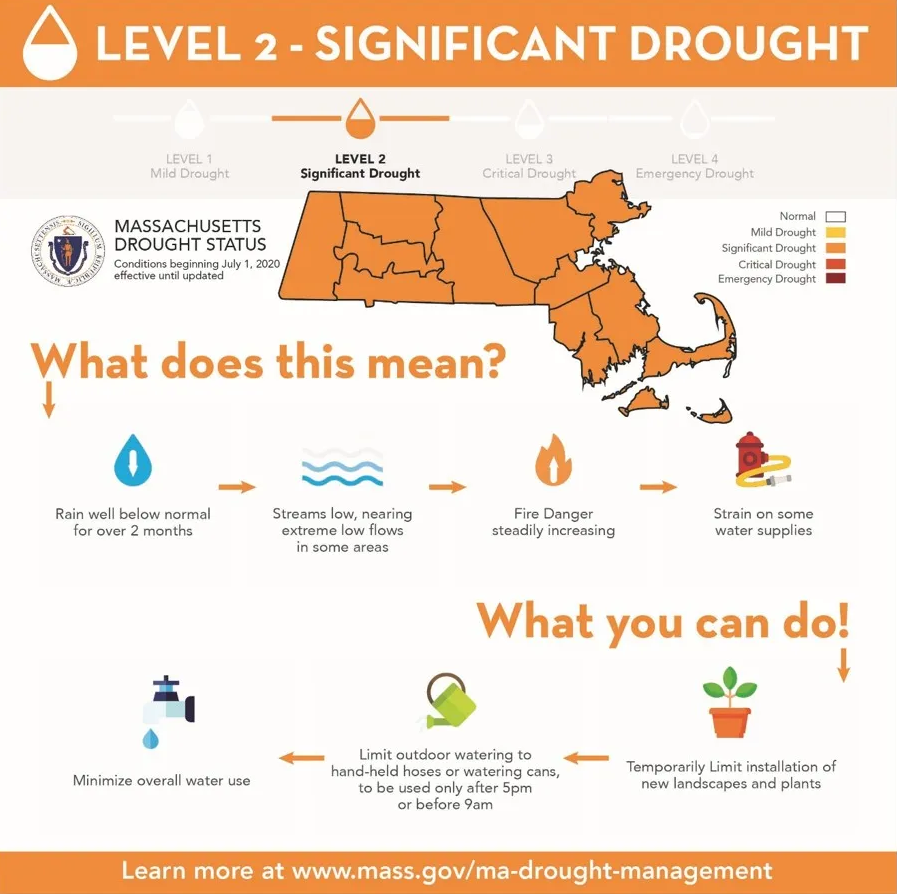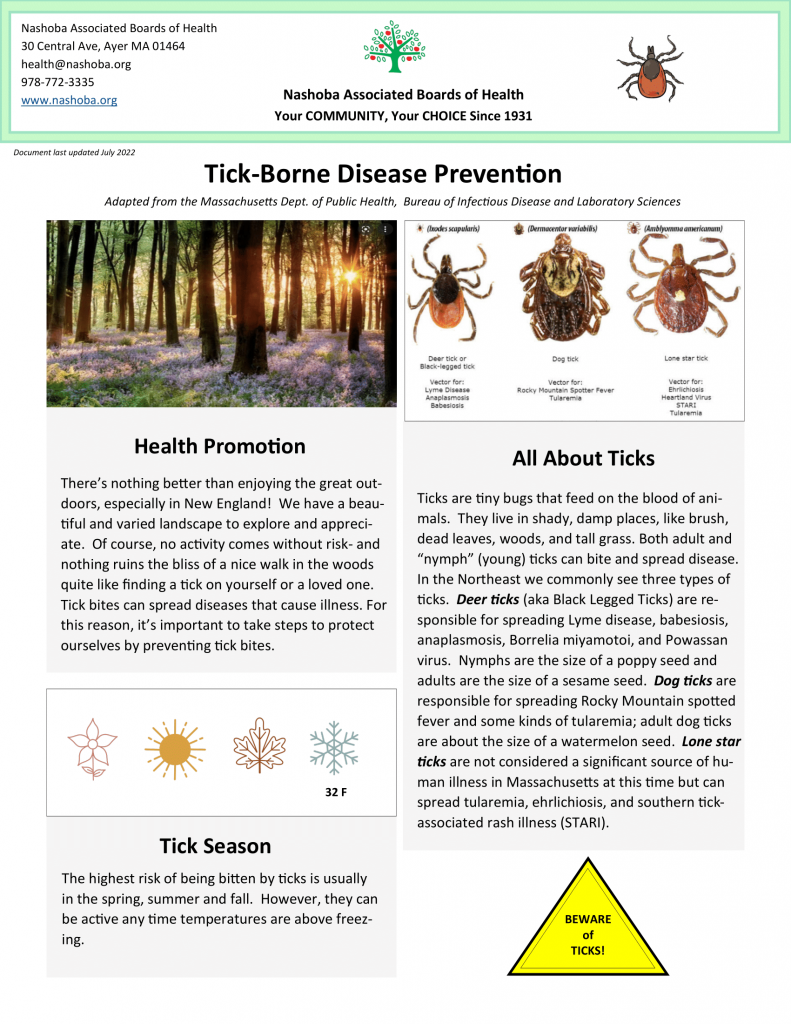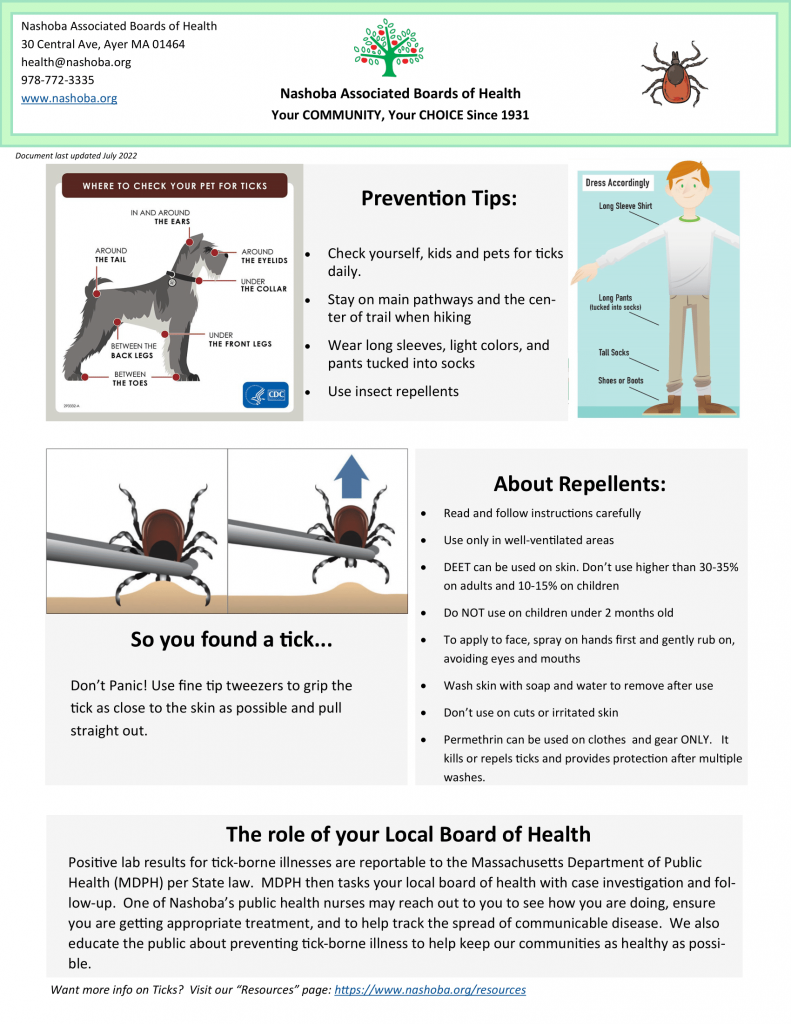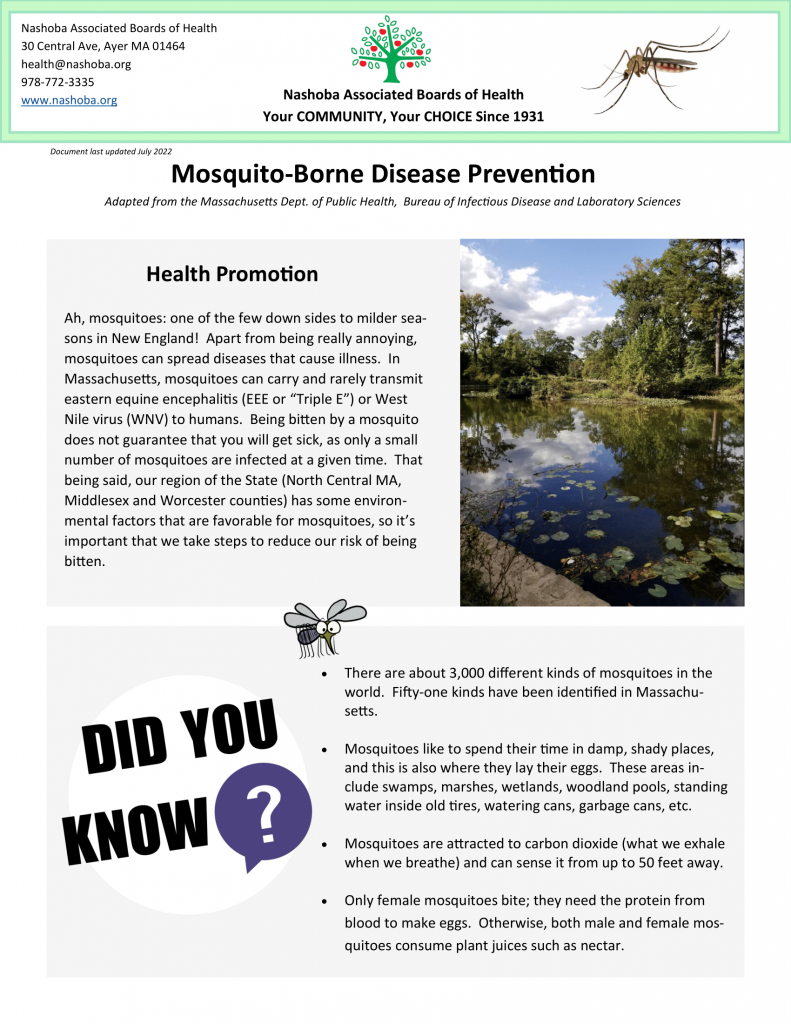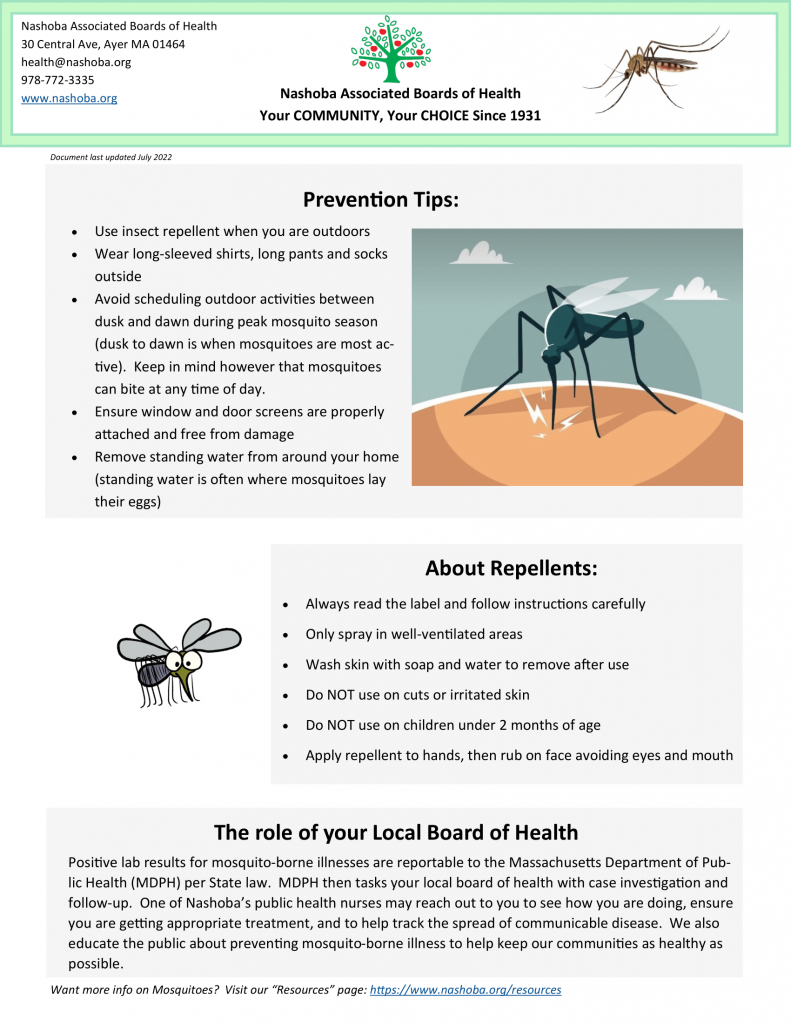 Covid-19 Home Test: Best Practices (Updated 01/21/22)
The following guideline has been recommended by the Nashoba Associated Boards of Health.

*To download a printable copy, please click here.
*Please note that home tests are not accepted in all situations; see footnote at end of this document.

Using A COVID-19 Home Test: Best Practices for the General Public
Testing is one of the important public health tools in our toolbox to reduce the spread of the virus that causes COVID-19. COVID-19 home tests (also sometimes called at-home tests, rapid antigen tests, self-tests, or over-the-counter tests) are becoming more widely available to the general public, though with high demand they can at times be difficult to locate. We at Nashoba understand that accessing testing can be challenging. We want to make sure our communities are getting the most out of their home tests, so we have put together this helpful guide.

Why would I consider using a home test?
COVID-19 home tests are easy to use, convenient, and provide quick results. Some home tests are available to purchase at a retail store or pharmacy without a prescription.

Beginning 1/15/22, private and group insurance companies will be required to cover the cost of FDA approved at-home tests (8 free OTC home kits per covered individual per month.) Kits currently on the market are for use on individuals ages two and up.

As of 1/19/22, under a special Federal program, each household is entitled to 4 free home test kits. For more information, visit: https://www.covidtests.gov/. Tests can be ordered from the U.S. Post Office at https://special.usps.com/testkits.Testing at home can help you limit your exposure to other people. The point of a home test is to inform your decision-making regarding exposure, and return to activity, and help you know what to do next. Per Massachusetts DPH and pursuant to the new isolation and quarantine guidelines released 12/29/21, a negative test result is not required to exit isolation after having COVID-19. A test is recommended but not required to return to activity following quarantine, five days after exposure*.

When should I home test for COVID-19?
You should get tested for COVID-19 regardless of vaccination status, whether by rapid test at home or by PCR at a healthcare provider:

• if you develop ANY symptoms of COVID-19 (fever, chills, or shaking, cough, shortness of breath, fatigue, sore throat, muscle aches, headache, new loss of taste or smell, nausea, vomiting or diarrhea) even if they are mild, OR

• if you are identified as a close contact of someone who has tested positive for COVID-19. In this case, you would ideally test on day 5 after your last exposure if no symptoms; otherwise, isolate and test immediately if any symptoms develop.

How do I use a COVID-19 home test?
There are multiple different types of tests available for at-home use, and the instructions and materials vary by test kit. Most are nasal swab kits, but some collect a saliva specimen. BE SURE TO FOLLOW THE DIRECTIONS THAT COME WITH YOUR TEST CAREFULLY AND COMPLETELY. We recommend reading the instructions all the way through at least once prior to opening any of the components of your test kit. Do not use an expired or damaged home test. Wash and dry your hands thoroughly before and after testing, and always set your testing materials on a clean flat surface. Follow the test kit instructions for disposal of your materials after use.

How do I interpret my home test results?
Again, be sure to read over the directions that come with your test carefully. These instructions should contain written and visual instructions for interpreting your test result. DPH recommends individuals that have COVID symptoms and test negative with a rapid antigen test should isolate and either repeat an antigen test or get a PCR test in 24-48 hours if they continue to exhibit symptoms.

A PCR test is not required to confirm a positive result on a home test.

What should I do if my home test is positive?
A positive home test result is the responsibility of the test-taker. We all need to do our part to slow the spread of COVID-19 in Massachusetts. This aligns with the latest guidance from the Massachusetts Department of Public Health.

If your COVID-19 home test is positive, isolate yourself immediately and inform your healthcare provider. You should also inform all of your close contacts (anyone you were within 6 feet of for a cumulative total of 15 minutes or more over a 24-hour period, in the two days prior to development of symptoms, or within the two days prior to testing if you have no symptoms). This applies regardless of vaccination status or masking by you or your contacts.

You do NOT need to inform your local board of health or health agent of your positive home test result.

Where can I find more information on COVID-19 home testing?
Please visit the links below for additional information.

Massachusetts DPH- Public Health Advisory Regarding COVID-19 Testing

CDC- Overview of Self-Testing (available in multiple languages)

CDC- How to Use a Self-Test YouTube Video

CDC - How to Interpret Self-Test Results YouTube Video

*Please note that schools, employers or providers may have different or more strict requirements. It is recommended that you check with your employer, school or provider. You can also check guidance for schools: K12 and early education and childcare: EEC. The same goes for travel; travelers should check requirements prior to travelling.
Covid-19 Update
Effective Monday, August 16, 2021, masks must be worn by all employees and the public in all public buildings (except buildings controlled and owned by the Groton Dunstable Regional School District) and Town owned vehicles, regardless of vaccination status.

There is an exception to this order by the Board; Individuals alone in private offices or vehicles are not required to wear a mask while alone. However, any meetings involving two or more employees or if there is more than one individual in a vehicle, masks must be worn. All members of committees and boards must wear masks during meetings. There is no exception to this rule.
Finishing Basement
If you want to finish your basement, please print out the Basement Checklist and submit all the applicable information with your Building Permit.
COVID-19 Coronavirus Vaccine Information
The State of Massachusetts has a plan to roll out the COVID-19 vaccine to the citizens of Massachusetts and that plan can be reviewed at http://www.mass.gov/covidvaccine. The Board of Health is assisting with State's role out plan; we have currently completed first dose clinics to vaccinate First Responders and health care workers. As a vaccine provider we must administer the vaccine in accordance with the State's plan and the Board of Health is exploring other options to assist the State with their vaccine roll out plan as vaccine become available from the State.

At the Governor's press conference on 1/25/21, the Administration announced updates to plans for Phase Two of the Commonwealth's distribution plan. Individuals 75 years or older will now be the first priority group in Phase Two, and individuals 65 years and older have been moved into the second priority group, in addition to individuals with two comorbidities. Starting on February 1 individuals age 75 or older can be vaccinated. Vaccination sites can be found on the Commonwealth's map at http://www.mass.gov/COVIDVaccineMap.

The Board of Health will inform the community as we are able to provide vaccinations but individuals looking to get vaccinated should take the following steps in pursuit of becoming vaccinated;

1. Please visit the State's website listed above to find out when you would be eligible for receiving the vaccine; the site is updated regularly.
2. Contact your primary care provider to inquire when they will be administering the vaccine.
3. Check with your local pharmacy, the large pharmacy chains to see when they will start to administer the vaccine.
4. Check large throughput sites (http://www.cic-health.com/vaccine). Eligibility for receiving the vaccine will be determined through the site.

The Board of Health is exploring options to be a partner in the State's vaccination program but it is important for citizens to reach out to the locations where they are normally vaccinated to stay informed of their options.
COVID-19 Corona Virus Information
The Board of Health has a dedicated page for COVID-19 information. Click Here to access it.
News/Events

NASHOBA Associated Boards of Health Flu Clinic 2021 Schedule
The Nashoba Associated Boards of Health ("NABH") will be holding their Annual Flu Clinic in Groton during the dates and times below.
65 years and older – Wednesday, October 6th, 2021 at the Groton Public Library, Sibley Hall (2nd Floor) from 2:30pm – 4:30pm
65 years and older – Wednesday, October 27th, 2021 at the Groton Senior Center from 9am – 11am
19 years and older – Wednesday, October 6th, 2021 at the Groton Public Library, Sibley Hall (2nd Floor) from 2:30pm – 5:30pm
19 years and older – Wednesday, October 27th, 2021 at the Groton Senior Center from 9am – 11am
6 months through 18 years old – Wednesday, October 6th, 2021 at the Groton Public Library, Sibley Hall (2nd Floor) from 2:30pm – 5:30pm
Please see the full 2021 Flu Clinic Schedule for more information. Please note there is a blue registration link for each age category that you may click on within to register. Groton residents are welcomed to attend any NABH Flu Clinic, and should bring with them their Photo ID and insurance card(s).
Please check the NABH website for additional information or call the Community Health Nurse, Tamara Bedard, at 978-772-3335, ext. 340, with any questions.
Rabies Clinic

For a full schedule for surrounding areas please click HERE
Discount For Tick Testing 2019 Season
Information available HERE
Over the last few months there has been significant news coverage of Eastern Equine Encephalitis (aka "triple E" or EEE) and West Nile Virus (WNV) in Massachusetts. Many communities—including a few nearby—have reported mosquitoes testing positive for the virus. As of September 25th, 2019, 10 human cases of EEE and 9 cases of WNV have been reported and there have been 3 related deaths in the state. As a result, several Groton residents have contacted the Board of Health asking (in essence) what we are doing about this.
Please mark your calendars. Nashoba Associated Boards of Health to hold its annual rabies clinic:
EEE Information
Understanding the risk
The risk varies significantly by geography. As responsible adults we should base our response on evidence rather than other factors and avoid propagating a culture of irrational fear in our community. As of October 9th, 2019, Groton is designated a low risk area.
You can find a map of the risk by town here: https://www.mass.gov/info-details/massachusetts-arbovirus-daily-update. You may need to scroll down a bit to see the map. There is a link on this page to a full screen version of the map, but this link changes as the map is updated. So, the most reliable way to make sure you are getting the latest map is to start at the link above.
You may be wondering how we know these risks? The state runs a program that tests mosquitoes, reports findings, and send alerts as appropriate to affected communities.
Protecting yourself and your family
The most effective protection against mosquito borne illness is a personal responsibility. The state's web site offers proven guidance for minimizing risks: https://www.mass.gov/lists/mosquito-borne-disease-information-for-the-general-public
What about spraying?
Spraying is not a cure. It will not "solve" the problem or eliminate the risk. However, various mosquito control techniques (including spraying) can significantly reduce risks. Mosquito control efforts in Central Massachusetts are managed and run by the Central Massachusetts Mosquito Control Project (CMMCP).
Groton has been a member of the CMMCP in the past
Due to state budgeting processes, towns are accepted into CMMCP once per year with a 3-year minimum commitment requirement
In 2014, after a presentation on the health risks and observed historical data, town meeting voted against joining the CMMCP for 3 the year commitment period at a total cost of ~$219K
As a result, Groton is not currently a member of CMMCP
For those wondering, there is no "we changed our mind and want to join right now" option. There is no way to leverage this program this year.
What about the future?
In the future if the residents decide to reconsider membership to the CMMCP a petition or Warrant Article for Town Meeting could be initiated through the Select Board for inclusion for next year.
Did you know you can subscribe to updates to this page? Create an Account or Manage your preferences at
https://portal.grotonma.gov
and get notified whenever a new meeting is scheduled or a new document is added!
About
The Board of Health performs on the local level many important duties relative to the protection of public health, the control of disease, the promotion of sanitary living conditions, and the protection of the environment from damage and pollution.
Mandated duties include:
health care and disease control
enforcement of housing and dwelling codes
monitoring of, and providing for, hazardous waste disposal
monitoring the sanitary landfill
enforcement of Title 5 (the State Environmental Code relative to septage and garbage)
investigating nuisances which in the board's opinion may be injurious to health
enforcing MGL Chapter 2 of the State Sanitary Code involving food service establishments
enforcing Title 5 of the State Environmental Code regarding safety and sanitation of pools and beaches
Under the subdivision control law, the Board of Health has important responsibilities with regard to subdivision plan review and, under Title 5, inspections of septic system installation and maintenance. The board also investigates citizen complaints. In addition to its elected Board of Health, the Town is also a member of the Nashoba Associated Boards of Health. One member of the Groton Board of Health serves on the Board of Directors of the Nashoba Associated Boards of Health Association. This organization, made up of surrounding towns and with offices in Ayer, acts as agent for the performance of many of the above duties under the supervision of the local Board. One arm of the Nashoba Associated Boards of Health, the Nashoba Nursing Service, provides communicable disease investigation and follow-up; tuberculosis monitoring; high risk, mother-infant follow-up; immunization and screen clinics; health promotion; and disease prevention.
The Groton Board of Health is served by a paid, full-time office administrator with an office in the Town Hall.
Contact Information
Email:
health@grotonma.gov
Phone:
(978) 448-1120
Fax:
(978) 448-1113
Office:
Town Hall, 173 Main St
Hours:
M 8:00am – 7:00pm; T-TH 8:00am – 4:00pm; F 8:00am – 1:00pm
Members: 3
Selection: Elected
Term In Years: 3
Remuneration: None

Members
Evan Thackaberry
Term Start: 2022-05-25
Term End: 2023-05-25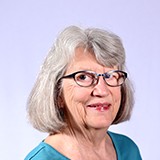 Michelle Collette
Term Start: 2021-05-27
Term End: 2024-05-21
Robert J. Fleischer
Term Start: 2022-05-25
Term End: 2025-05-25
Board of Health Resources
TADS-Teenage Anxiety and Depression Solutions
Water Quality Testing Info For The Town Of Groton
Please be advised that homeowners are required to have a full water quality test done within six months but no less than 30 days prior to transfer of ownership. Please refer to Section 330-8 within the Town of Groton Well Regulations in addition to this Well Water Sampling Quality Testing handout which is provided to agents and homeowners in advance of a home closing for more information.
The water quality testing has to be done by a certified lab in MA. You may contact either Nashoba Analytical in Ayer, MA at (978) 391-4428, Skillings & Son (https://www.skillingsandsons.com/water-testing/) or New England Well & Pump Co., LLC (978) 732-4803
Board of Health Documents
Licensed Trash Haulers
Waste Management:
124 Hartwell Street
W. Boylston, MA 01583
(800) 545-4560
Waste Not: 
52 Hartwell Street
Fitchburg, MA 01420
(978) 649-0641
GW Shaw and Son, Inc.:
124 Old Wilton Road
Greenville, NH 03048
(603) 878-4108
DPS Trash & Recycling:
286 Kemp Street
Dunstable, MA 01827
(978) 302-8982
Republic Services: 
385 Dunstable Road
Tyngsboro, MA 01879
(800) 442-9006