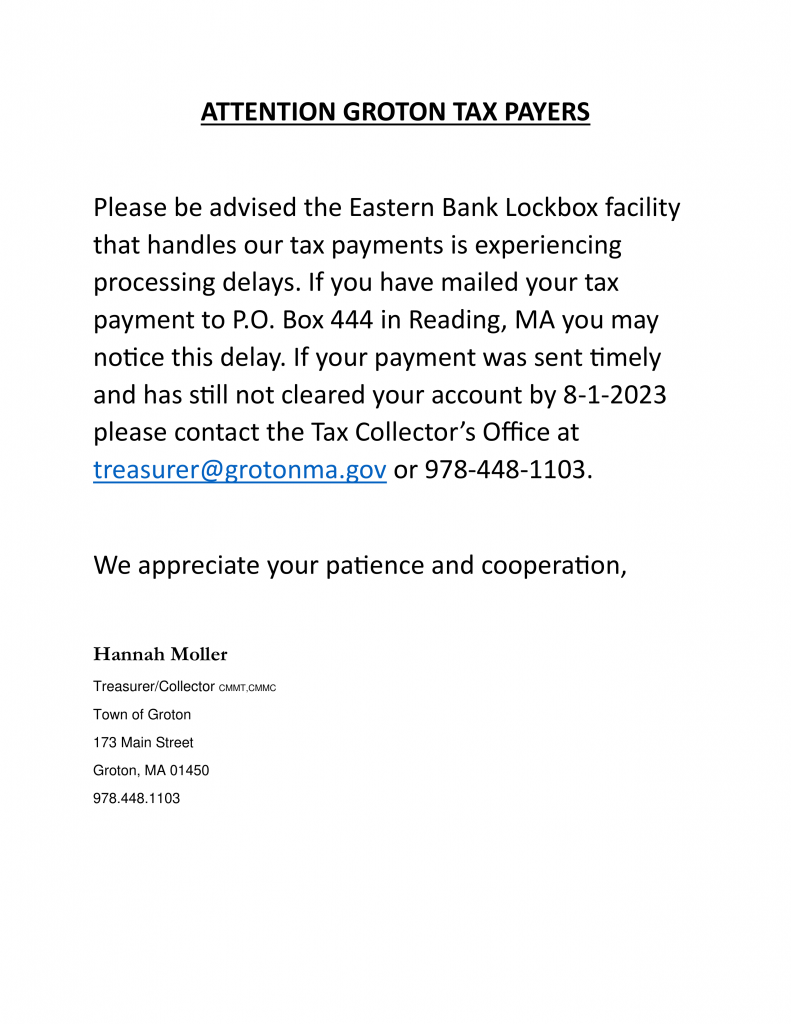 Press Release - Real Estate Tax Bills Update
Attention West Groton residents.
A mailing has been sent to all West Groton residents.
The referenced mailing can be found here: Click HERE
This notice was sent to inform you of the change you will see on the up coming real estate tax bill.
The mailing included a sample bill. This was not a real bill and does not reference any value related to your property.
The sample bill can be found here: Click HERE
It was provided as an example of what to look for on your bill that will be issued July 1st.
If you have any questions or concerns regarding this change please contact the Treasurer/Collector at 978-448-1103 or treasurer@grotonma.gov
We apologize for any confusion this may have caused.
Thank you for your understanding.
2023 Motor Vehicle Excise Bills
2023 Motor Vehicle Excise bills were issued February 24, 2023.
Please find the Motor Vehicle Excise Information Sheet: Click HERE
If you no longer own the vehicle, you may entitled to an Abatement. Please find the Abatement Application here: Click HERE
All Abatement Applications can be emailed to Assessors@grotonma.gov
Make sure to include a completed application along with all required and requested documents.
If you have any questions, please contact the Assessor's Office at (978)448-1127.
Assessor's Office Hours
| | |
| --- | --- |
| Monday | 8:00 AM to 7:00 PM |
| Tuesday to Thursday | 8:00 AM to 4:00 PM |
| Friday | 8:00 AM to 1:00 PM |
Parcel Auctions
Interested in attending the next parcel auction?
Please go to the link below and enter your contact information to be notified of any upcoming auctions.
Did you know you can subscribe to updates to this page? Create an Account or Manage your preferences at
https://portal.grotonma.gov
and get notified whenever a new meeting is scheduled or a new document is added!
About
Mission Statement
The Town of Groton's Treasurer/Collector office is responsible for collecting all taxes and committed bills issued by the various town departments. All payments are recorded, posted, updated and deposited daily. The Collector's staff is committed to providing our customers with up to date information on their accounts in an effective and efficient manner – using guidelines established by the Department of Revenue and Town Charter.
The Town Treasurer's office is responsible for the receipt, posting, classifying, depositing and investment of all money belonging to the town. This also includes the issuance of all town payroll and vendor checks on a weekly basis. Other responsibilities include administration of Tax Title & Foreclosure accounts, Debt Service, Trust Funds, Investments and bank account reconciliation's.
Some of the main activities and programs of our office are:
Bill Collections
Real Estate Bills
Personal Property Bills
Motor Vehicle Excise Tax Bills
Deputy Collector Mark and Clear
Municipal Lien Certificates
Tax Titles
Tax Liens
Tax Lien Agreements
Tax Lien Foreclosures
Foreclosed Land Sales
Banking
Borrowing
Investments
Reconciliation
Vendor and Payroll
Check Distribution
Contact Information
Members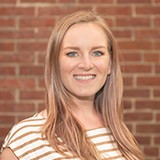 Hannah Moller
Treasurer/Tax Collector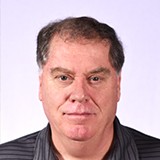 Michael Hartnett
Assistant Treasurer/Tax Collector
Town of Groton Tax Rate
The current 2023 tax rate for the Town of Groton is
$15.64
Past tax rates are below.
| | |
| --- | --- |
| Year | Tax Rate |
| 2023 | $15.64 |
| 2021 | $17.60 |
| 2020 | $17.38 |
| 2019 | $18.11 |
| 2018 | $18.67 |
| 2017 | $18.26 |
| 2016 | $18.78 |
| 2015 | $18.27 |
| 2014 | $17.38 |
| 2013 | $16.85 |
| 2012 | $16.08 |
| 2011 | $16.38 |
| 2010 | $15.78 |
| 2009 | $14.32 |
| 2008 | $13.87 |
| 2007 | $13.77 |
| 2006 | $14.77 |
| 2005 | $13.84 |
| 2004 | $15.44 |
| 2003 | $14.28 |
| 2002 | $14.10 |
Treasurer & Tax Collector Documents