Did you know you can subscribe to updates to this page? Create an Account or Manage your preferences at
https://portal.grotonma.gov
and get notified whenever a new meeting is scheduled or a new document is added!
About
The primary objective of the standing Committee shall be to pursue a course of action intended to engage all Town stakeholders, including the business and non-profit communities, Town leaders, and Town residents in a series of public information forums in order to prepare for an increase in visitors to town while at the same time work to preserve its rural small-town charm.
The Committee's work should include but not be limited to the following:
The Committee shall be responsible for providing direction, coordination and guidance across the many opportunities such as commercial and retail development and job creation, and challenges such as, traffic, parking and infrastructure, as Groton becomes more of a destination community all with the goal of creating a greater sense of community, quality of life and civic pride.
Work closely with the Town Manager and in anticipation of working with an individual appointed as the new Director of Economic and Community Development, to identify and secure funding resources from federal and state grants, as well as, potential private and/or nonprofit funding sources to address issues pertaining to tourism programing, strategic marketing, infrastructure and regional transportation mitigation.
Work collaboratively with other Town Committees, Boards and Commissions that can contribute to the mission and to the overall success of Destination Groton.
Work closely with the Groton Business Association, Groton Visitors Center, the Nashoba Valley Chamber of Commerce and other relevant regional organizations, attractions, and neighboring Towns, Groton Hill Music Center and other relevant town venues, attractions and assets to develop strategic informational and marketing materials that promote Groton's unique character and destination potential.
Destination Groton Public Forums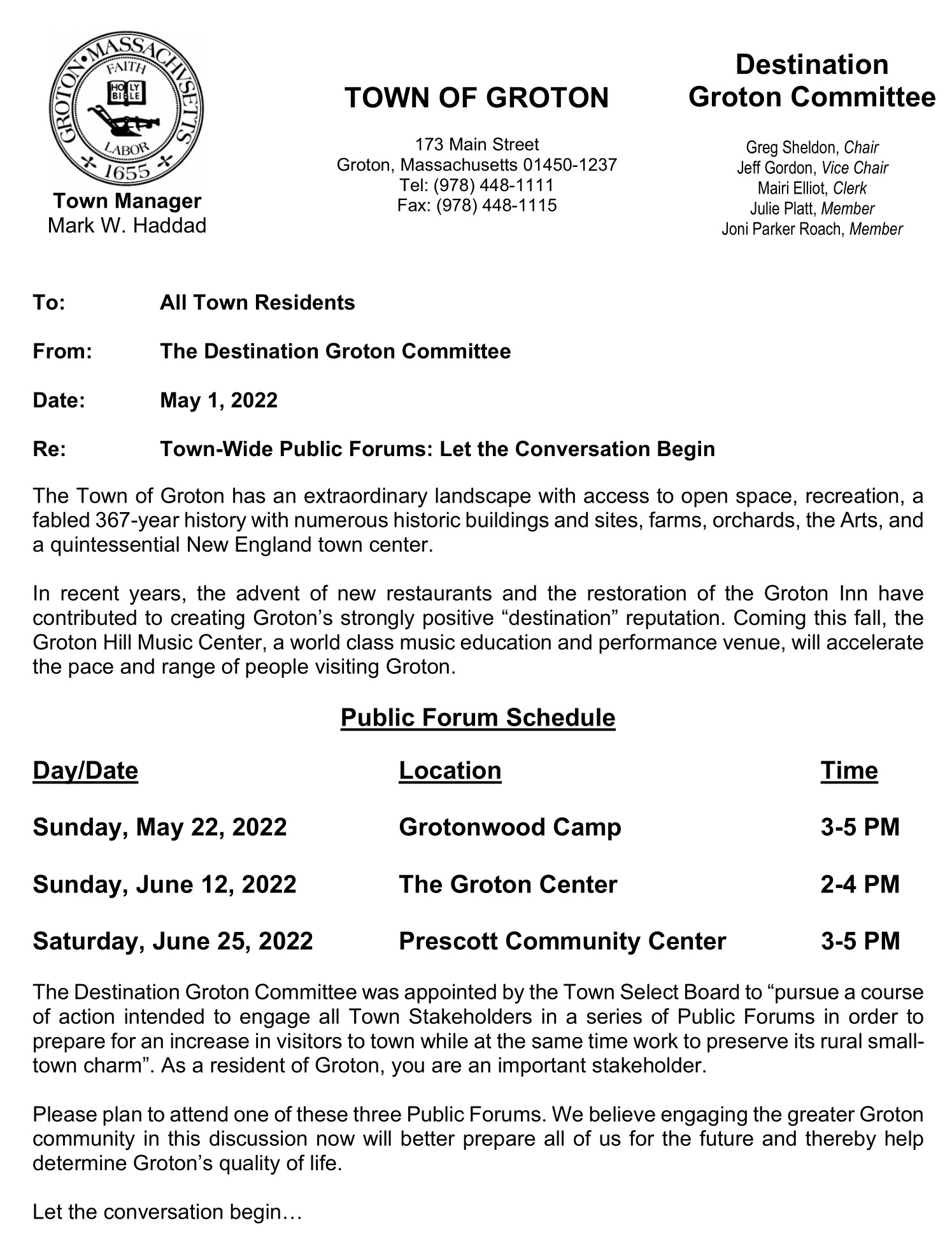 GBA Tour of Groton
Below is a short video from the Groton Business Association giving a quick tour of Groton.
Contact Information
Members: 5
Selection: Appointed
Term In Years: 1
Remuneration: None

Members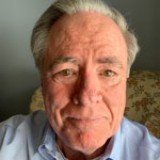 Gregory M. Sheldon
Term Start: 2021-12-14
Term End: 2022-06-30
Jeff Gordon
Term Start: 2021-12-14
Term End: 2022-06-30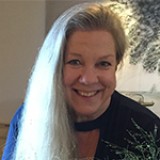 Joni Parker-Roach
Term Start: 2021-12-14
Term End: 2022-06-30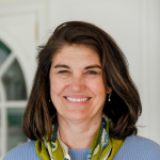 Julie Platt
Term Start: 2021-12-14
Term End: 2022-06-30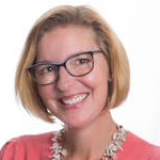 Mairi Elliott
Term Start: 2021-12-14
Term End: 2022-06-30
Destination Groton Committee Documents