THE GROTON CENTER, 163 WEST MAIN STREET, Groton MA
THE ANNUAL TRUST FUNDS LECTURE IS OPEN TO THE GENERAL PUBLIC AND IS CO-SPONSORED WITH THE NASHUA RIVER WATERSHED ASSOCIATION.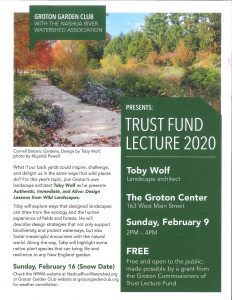 This program is FREE and open to the public; made possible by a grant from the Groton Commissioners of Trust Lecture Fund. It is co-sponsored by the Groton Garden Club and the NRWA.
What if our back yards could inspire, challenge, and delight us in the same ways that wild places do? For this year's topic, join Groton's own landscape architect Toby Wolf as he presents Authentic, Immediate, and Alive: Design Lessons from Wild Landscapes.
Toby will explore ways that designed landscapes can draw from the ecology and the human experience of fields and forests. He will describe design strategies that not only support biodiversity and protect waterways, but also foster meaningful encounters with the natural world. Along the way, Toby will highlight some native plant species that can bring life and resilience to any New England garden.
Snow Date: Sunday, February 16 – Check the NRWA website NRWA@NashuaRiverWatershed.org or Groton Garden Club website grotongardenclub.org for weather cancellation